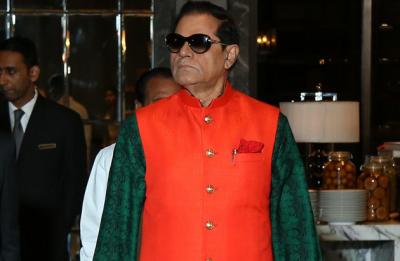 We see many people come to Industry - work as long as they are in prime form and once their star starts shining less bright, they pack their bags to unsolicited retirement.
Now, few people like T. Subbarami Reddy, MP, Rajya Sabha, are laughed at for giving awards to each known technician from films, for being over the top and loved by film personalities for the same thing.
We couldn't have expected Nagarjuna and Balakrishna to be on same stage after the reported clashes of ego between them, if it wasn't for an invitation from Kalabhandu, TSR! We couldn't have had meme-worthy felicitation of director Gunasekhar by Balakrishna too.
He conducted special appreciation meet for Megastar Chiranjeevi, when he released Khaidi No.150 and now, he did the same for Sye Raa. Paruchuri Venkateswara Rao, Surendar Reddy, Sai Madhav Burra, Chiranjeevi, Tamanna and Ram Charan were present at the felicitation.
He did not start such film events yesterday. There is a video online, where he was seen giving dinner party and awards to likes of NTR, ANR in mid-70's as well.
He produced films like Bhagavad-Gita (Sanskrit), State Rowdy, Surya IPS, Trimurthulu, Lamhe (Hindi), Chandini (Hindi), Swami Vivekananda (Hindi) and Vamshoddarakudu.
He announced that he will produce a film after long time of Chiranjeevi and Pawan Kalyan will act in the same film, in Trivikram Srinivas's direction. He is the main reason behind Annamayya receiving National Honors & Nagarjuna receiving the special jury award for his performance.
He is a great film fan who wanted to ne friends with each and every technician. He doesn't care for world, when it comes to expressing his love towards arts, however eccentric, it might be.
He is misunderstood as a man who tries to show-off, while he does have his pet-peeves, he doesn't neglect any person from the film fraternity and such a quality is rare to find.
Megastar Chiranjeevi too likes him dearly, for the same reason and hence, he attends to the felicitations conducted by TSR, without fail.