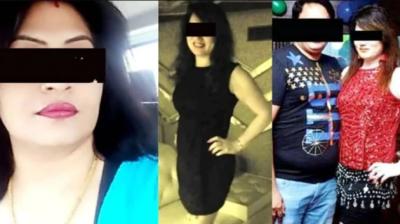 Politicians (Ministers, MPs, MLAs), Top Businessman and Senior Bureaucrats are the victims of the High-Profile Money Trap busted in Madhya Pradesh. Cops nabbed five women and a man who operated this racket.
Honey-Trap Modus Operandi:
Gang targets the highly Influential Personalities and change their address upon successfully completing the extortion of money. They used to prefer accommodation at only posh localities. Meeting Politicians, Bureaucrats and Businessmen wasn't difficult in Bhopal. Hence, Honey-Trap was laid for them in this city.
Accused in the Honey-Trap Scandal were identified as Shweta Swapnial Jain (48), Omprakash Kori (45), Shweta Vijay Jain (39), Barkha Soni (34), Aarti Dayal (29) and Monica (18). Police seized an SUV, Spy Cameras, Mobiles and Cash during the raid.
How the Honey-Trap Racket was Busted? An Engineer of the Indore Municipal Corporation (IMC) registered a police complaint over the blackmail calls he was receiving. Shweta Swapnial Jain had introduced Aarti Dayal to the IMC Engineer 8 months ago. An intimate moment between the Engineer and Aarti Dayal was filmed by the gang. Later, They demanded Rs 3 crore from him or else threatened to make the video clip public. Cops laid a trap to nab the gang after the Engineer registered the complaint. They made the Engineer tell the Gang that he would pay Rs 50 lakh in the first installment. When Shweta Swapnial Jain and Aarti Dayal arrived to collect the money, They were arrested by the Police and that's how the racket was busted.