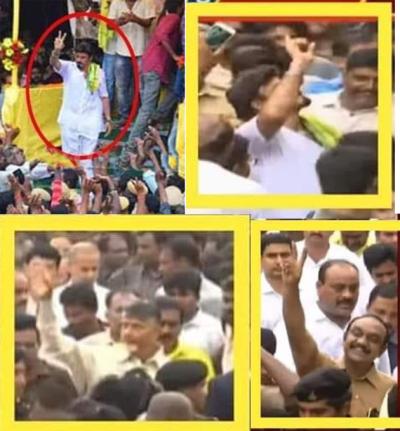 Well! We all know how Chandrababu Naidu uses even deaths for political mileage. He has done it with Harikrishna's death. Even as the people were mourning his brother-in-law Harikrishna's death, Chandrababu held political discussions on alliances with KCR. So, it's little wonder that he would not use the death of Kodela Sivaprasad for political advantage.
Look at the way the last journey of Kodela was organised. It was more like a victory procession. There was no pain in any face, including that of Chandrababu Naidu. What more, Chandrababu himself was flashing his famed victory sign. Most TDP leaders used Kodela's last journey for political mileage and regarded this as a victory for them. Interestingly, none of these worthies bothered to pay a visit when Kodela was in trouble - both on the family front and as a politician.
When he tried to commit suicide a week ago, Chandrababu did not bother to meet him. He did not even call him on over phone and tried to instil confidence in him. But, the very same Chandrababu Naidu is now talking of Kodela being politically harassed. Interestingly, Chandrababu did not give Kodela any appointment despite several requests and this is public knowledge in the TDP circles. Yet, Chandrababu Naidu does not bat an eyelid trying to use Kodela's unfortunate suicide for personal gains.