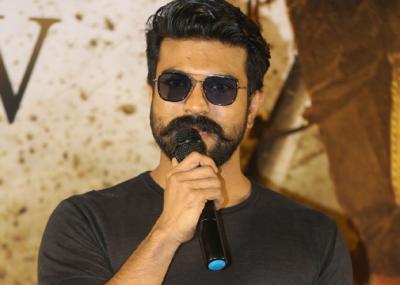 Mega Fans were upbeat about the fact that Pawan Kalyan offered voice-over for the First Look Teaser of 'Sye Raa'. During the trailer launch, Ram Charan was questioned by a reporter whether the voice-over of PK will be restricted to Promo alone or Will it be included in the film as well. Mega Powerstar appeared happy when this query was asked and he conveyed Babai's voice-over is going to be in the final cut as well.
Actually, Fans welcomed the idea of Pawan Kalyan's voice-over for 'Sye Raa' but Neutral Audience felt it didn't create the desired impact. Critics feel somebody with a much better base voice should have offered the voice-over for 'Sye Raa'. They say, 'When Ram Charan himself decided to restrict himself to the role of Producer even though he have the luxury of playing a crucial role in his Father's dream project, Why did he let Surender Reddy hire Pawan Kalyan for voice-over just to please the Fans? 'Sye Raa' isn't a regional film but a Pan-India Project and it has to be approached in the same manner. Its surprising to see Mega Camp failing to find a better voice than that of Powerstar for 'Sye Raa''.
All those who wish to see Chiranjeevi's ambitious project to remain memorable forever could only pray that this minor short-coming doesn't affect the fate of 'Sye Raa' in any way. Let's hope all the positives in the Flick based on Pre-Independence Era overshadows any such negativity!