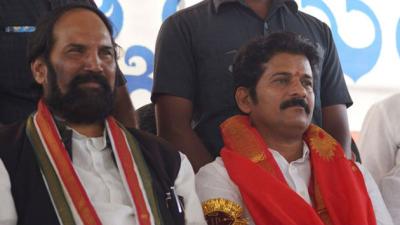 Congress Party's Telangana working president and Malkajgiri MP Revanth Reddy is angry, not at CM KCR or the TRS, but on his own party's Telangana PCC chief Uttam Kumar Reddy. And why is he angry? He is upset because Uttam Kumar Reddy has announced his wife's name as the party candidate for the Huzurnagar bypolls. Revanth did not limit himself to mere comments. He went to Hotel Golconda to meet Telangana Congress Party affairs incharge Ramachandra Khuntia to lodge a complaint against Uttam Kumar Reddy. What more? He wanted RC Khuntia to serve a notice to Uttam Kumar Reddy, He also threatened to take the issue to the notice of the High Command.  Revanth said that Uttam Kumar Reddy has no right to unilaterally decide on the party's candidate for Huzurnagar.
Uttam Kumar Reddy had represented Huzurnagar in the last assembly and had won from the same constituency in the 2018 polls. However, the party had asked him to contest for the Nalgonda Lok Sabha seat and he had registered a victory in the elections. Later, he resigned the MLA post thus necessitating a bypoll. He has on Wednesday announced at a meeting of party elders in Nakkagudem village that his wife and former MLA Padmavathi would contest from Huzurnagar.
 This led Revanth Reddy to react and criticise Uttam Kumar Reddy. Uttam and Revanth are not getting on well for quite some time. Revanth has criticised Uttam's decisions in the past too. Meanwhile, the ruling TRS is said to be mulling over making KCR's daughter Kalwakuntla Kavitha its candidate for the Huzurabad bypoll.