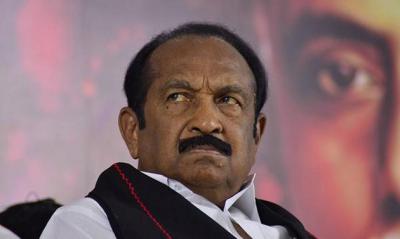 In a sudden reversal of stand, arch Dravidian ideologue, firebrand atheist and MDMK leader Vaiko has asked the party cadres and Dravidian activists to visit the temples to prevent the RSS and its affiliates from taking them over. He said that given the fact that lakhs of Tamilians visit temples like Tirupati, Aatthi Varadarajan and Kanchi Kamakshi, there was no point in avoiding them. He said the temples were great treasure houses of Indian art and culture. This statement has surprised many as Vaiko is a diehard atheist and a Dravidian activist all his life.
He also advised the cadres at a party meet in Chennai  thus: "99 per cent of the Tamilians go to the temple. We must change our strategy and tactic to suit the present times." He said that this was necessary in the fight against the RSS and its affiliates. Vaiko has also said that even EVR Periyar, the fountainhead of the atheistic Dravidian movement in Tamil Nadu, has changed. Annadurai did not say in 1960s what he had said in 1040s and 1950s.
He had another advice to the Dravidian cadres. "If you do not want to go to temples, that's fine. But, don't criticise those who go to the temples. Ninety per cent of the people in Tamil Nadu go to temples and you can do nothing to stop them." The Dravidian movement in Tamil Nadu has essentially been anti-Hindu in nature. Dravidian activists in the past have broken Ganesha idols on the streets and garlanded Lord Rama's idols with chappals.