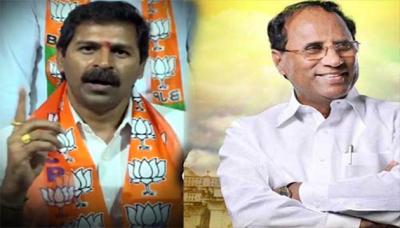 When Leaders of all the political parties have been conveying condolences, One Leader in the Telugu States is more than happy with the suicide of Kodela Siva Prasad Rao. He is none other than Vangaveeti Narendra who is currently serving as a BJP Member.
After the death of Kodela, Vangaveeti Narendra and Ranga Fans garlanded the statue of Vangaveeti Mohana Ranga. 'Kodela was the Home Minister of United AP when Ranga was brutally murdered at the Bandar Road. It was Kodela who was behind the assassination. Kodela and SP Vyas held a meeting in Tenali Guest House to plan the murder. Recce was conducted for three days in the area where Ranga was staging protest and the murder plan was executed. A week before the assassination, 300 Policemen who were supportive of Ranga were transferred. The assassination was planned as then TDP Government wasn't able to digest the rising popularity of Ranga. I am the prime witness of the sensational murder,' he disclosed.
Vangaveeti Narendra claimed the person who was behind Ranga's Murder died after 30 years. He went on to say illegal activities of Kodela has been getting exposed one after the other after losing power and hence extreme step was taken by the Former Speaker. Narendra appealed media to expose the corrupt practices of Kodela rather than highlighting his death.