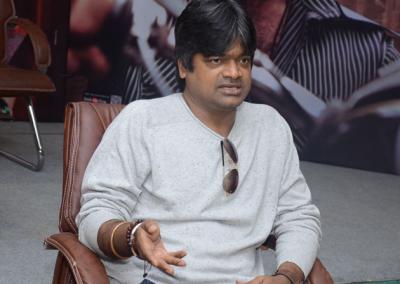 Harish Shankar is one of those directors who is good at capturing the mass pulse. Once again, He is going to consolidate his position as a Mass Director with 'Valmiki'.
In the recent media interaction, Harish Shankar was asked to elaborate his statement at the pre-release event of 'Valmiki'. The Filmmaker replied, 'Life is a never ending process. Because of Journalists, YouTube Channels and Websites, We learnt culture (Vinaya Vidheyathalu)'.
When quizzed whether if Media should treat it as a compliment, Harish said: 'I have conveyed it in a positive way. I have changed because of you'.
Asked if he have any sentiments while making a movie, Harish Shankar made it clear he doesn't believe in such aspects: 'I wouldn't have casted Shruti Haasan in 'Gabbar Singh' and Pooja Hegde in 'DJ' if I believe sentiments. My film with 'Golden Leg' Samantha was a flop. My Debut Movie 'Shock' was a disaster. Still, Raviteja didn't treat Me like an Iron Leg and offered the chance to direct 'Mirapakai'. When a Hero encouraged Me in such a manner, Why shouldn't I cast a flop heroine in my flick? Success and Failure of a film depends on various factors. You just can't blame Heroine alone if the result is negative'.