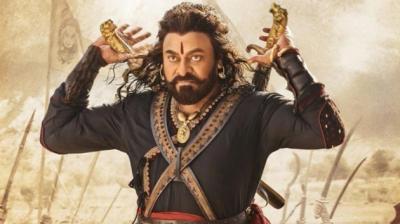 Sye Raa Narasimha Reddy theatrical trailer will be unveiled on 18th September at 05:31 PM. It will be released online and showcased at screens in different areas too.
Ram Charan is producing the film and few Industry insiders got a look at the trailer for feedback it seems.
After repeated requests, anonymously they revealed, these following details...
* Chiranjeevi will be introduced as Uyyalavada Narasimha Reddy followed by Amitabh Bachchan's intro as his guru.
* Tamanna gets an action sequence intro while Nayantara is seen as a homely lovely lady in love with Narasimha Reddy.
* Jagapathi Babu is introduced as brother of Narasimha Reddy but a man filled with jealous.
* A huge war sequence cuts are added after which Kicha Sudeepa and Vijay Sethupathi are introduced.
* Again huge war cuts and two huge punchlines, dialogues of Chiranjeevi are revealed.
* Pawan Kalyan narration of the characters and introduction continues, with a glimpse of Anushka Shetty as Jhansi Lakshmi Bai.
* Underwater action sequence glimpse, huge war against the old Fort sequence and fee shots from one song will be part of the trailer.
Surrender Reddy is directing the film and Ratnavelu, completed trailer DI work last night. The social media team of Konidela Productions has set up all the necessary technical support for the trailer to be live by given time.
In selected theatres, the trailer will be played and accordingly keys will be issued by 3:30PM to the theatres that have signed up specially. Trailer will be a spectacle say the people who already saw it!