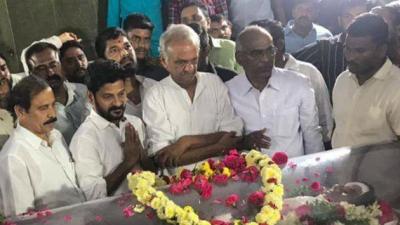 Revanth Reddy used to be one of the most charismatic leaders of Telangana TDP. The exit of the firebrand from the party was heartbreaking for several TDP Workers and Supporters. The Parliamentarian realized how much TDP Cadre loves him when he visited NTR Trust Bhavan on Tuesday.
After taking part in the Round-Table Meeting organized by Pawan Kalyan over Uranium Mining in Nallamala Forest, Revanth Reddy went to NTR Trust Bhavan for paying tribute to deceased leader Kodela Siva Prasad Rao. TDP Workers who were present at the party headquarters competed to shoot hands with the Dynamic Leader. Some of them had even got emotionally addressing him as 'Anna'.
Understandably, Revanth Reddy was surprised with such a warm welcome as he quit TDP almost two years ago. He seems to have opined, 'TDP Workers used to get excited upon spotting me in the NTR Trust Bhavan in the past as well but showing same kind of affection even after quitting the party means a lot'.
Certainly, Revanth Reddy will cherish this experience throughout his life. He will be proud to earn a permanent place in the hearts of TDP Activists.