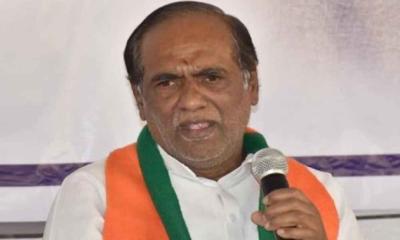 Valmiki Title controversy is yet to be resolved. Boya Community has been raising objection to the title citing it hurts their sentiments. Anantapur MP has already complained to the I&B Minister Prakash Javdekar against the controversial title. He cautioned about the Law & Order Situation if the film releases on September 20th with the same title.
On Monday, Representatives of Boya Community met Telangana BJP President K Laxman to complain about 'Valmiki' title. 'Using the title 'Valmiki' for a Gangster Flick hurt the sentiments of Boya Community. We have complained to Censor Board seeking change of the title. Hero, Director and Producers will be responsible for the consequences If they release the flick against the wishes of Boya Community,' he warned.
Inspite of the pressure from various sources, Makers of 'Valmiki' remained firm on their decision. They believe it's an apt title as the subject is about a Gangster who transforms into a good person towards the end.
Harish Shankar might be having the support of Minister KTR in this matter. This could be the reason why Makers aren't worried about the threats over the title.