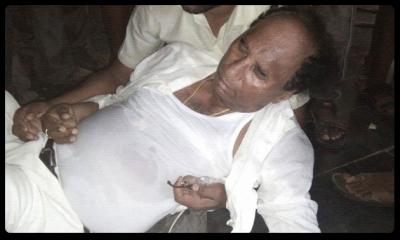 Former AP Speaker Kodela Siva Prasad attempted suicide by hanging at his residence in Hyderabad on Monday. Family Members foiled his attempt and rushed him to the Basavatarakam Cancer Hospital in Banjara Hills. The condition of the Senior Politician remained critical by the time he was brought to the hospital. Efforts put in the Doctors didn't yield the results and Kodela was declared dead.
After having breakfast on Monday morning, Kodela Siva Prasad went to his room upstairs. Family Members went to check what he was doing as he didn't come down and that is when he was spotted taking the extreme measure.
Kodela was survived by his Wife Sasikala, Daughter Vijaya Lakshmi, Sons Siva Rama Krishna and Satyanarayana. This Six-Time MLA served as Home Minister, Panchayat Raj Minister and Irrigation Minister during TDP Rule in the 80s and 90s. In the last five years, He was the Speaker of Andhra Pradesh.
The downfall of Kodela began with the defeat in Assembly Polls. Several serious allegations were levelled against him and his Son Siva Ramakrishna. Assembly Furniture Issue and K-Tax ruined his reputation so badly. Exact reasons behind Kodela's extreme step aren't known yet.