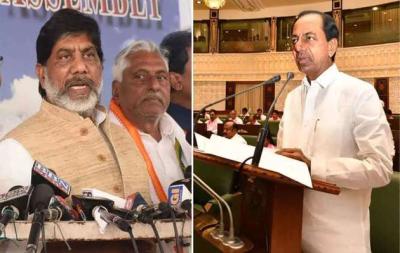 KCR, without doubt, is among the most unpredictable politicians around. He does the exact opposite of what one expects him to do. His can surprise the best of predictors with his actions.
The other day, Leader of the Congress Legislature Party Mallu Bhatti Vikramarka made a very powerful speech, wherein he criticised KCR's decisions and pointed out errors in his judgement. His speech was also an indictment of KCR's policies. KCR, who never tolerates criticism, was at his invective best. He used harsh words to take on Mallu Bhatti Vikramarka. KCR's counter-attack and the tone and tenor of his speech invited widespread criticism from all sections.
KCR realised this and quickly changed tack.  He "regretted" his comments and said he should not have used the language he had used against Mallu Bhatti Vikramarka. This has put a lid quickly on the whole controversy. Interestingly, KCR did not either backtrack from his statement or said what he said were wrong. He only expressed regret at the way he has said this.
Thus, it is clear that he has only changed his strategy. He has not retraced his comments. He has made it amply clear that he was standing by what he said, but regretted only the way it was said. Telangana's political watchers say that KCR has quickly realised that the people of telangana do not brook arrogance. So, he quickly corrected himself without actually withdrawing the words.  Clever indeed of KCR to have done that. He quickly doused the fires, but stood his ground.