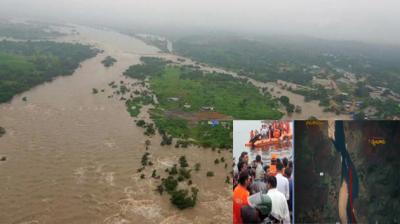 A Tourist Boat carrying 61 Passengers capsized in the Godavari River in Andhra Pradesh on Sunday afternoon. While 50 People were Tourists, Remaining 11 Were Boat Staff. This accident happened near Kacchuluru Village in Devipatnam Mandal of East Godavari District during the tour of Papikondalu Hills.
Locals have rescued as many as 27 People in the ill-fated boat. Five Dead Bodies have been recovered so far. Nearly 30 others have been missing.
Actually, Tourist Services were halted since few days as Godavari river kept receiving flood water of almost 5 lakh cusecs until Yesterday. Permission was given for Tourist Boats on Sunday as the water flow receded.
CM YS Jaganmohan Reddy ordered the Officials to carry out rescue operation. Two NDRF Teams comprising of 60 members were taking part in the search.
AP Home Minister Sucharitha alerted District SP soon after knowing about the accident.
Pawan Kalyan directed Jana Sena Activists to take part in the rescue operation.