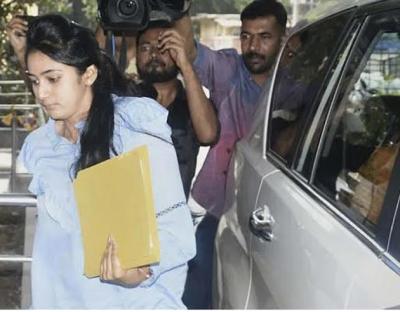 Until few days ago, None of the outsiders were aware of the identity of this 23-Year-Old Lady who was followed by a media photographer. But now, She has been one of those individuals media has been paying utmost attention. Who is this lady? She is none other than the former Karnataka Minister DK Shivakumar's Daughter Aisshwarya.
The Enforcement Directorate questioned Aisshwarya in connection with the money-laundering case filed against her Father. The Central Agency is trying to find out how the assets of Aisshwarya increased from Rs 1 in 2013 to Rs 100 crore in 2018. ED collected details of DK Shivakumar and Aisshwarya's Singapore trip in July 2017 to make a significant investment.
DK Shivakumar is known to be the Troubleshooter of Karnataka Congress. He was instrumental in the formation of Congress-JD (S) Coalition Government. Soon after BJP proved its majority in the Karnataka Assembly, The hunt for DK Shivakumar has begun to ensure there is no threat for the new government. The 57-Year-Old was arrested after questioning for four days.