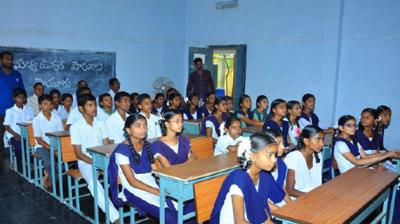 CM YS Jaganmohan Reddy declared English will be the medium of instruction from Class 1 to 8 in all Government-run Schools in Andhra Pradesh. Close to 70,000 Teachers will be trained in District Institutes of Education and Training (DIETs). This is part of the reforms to be brought in the Education Sector by the YCP Government.
Jagan informed vacancies in Teaching Posts will be filled in January 2020 to maintain Teacher-Student Ratio. He told topics related to climate change, road safety and environment will be included in the education curriculum.
Chief Minister ordered officials to work towards upgrading High Schools to Junior Colleges, Ensuring Junior College in every Mandal and Degree College in every Assembly Constituency. He stressed the need for making Parents understand the importance of Education to transform the lives of their children and maintaining good quality in mid-day meal.
As many as 44,512 Schools  (including Panchayat Raj, Municipal, Tribal, BC Welfare) will be renovated under 'Then & Now' Programme. In the first phase, 15,410 Schools will be refurbished. First Phase will be completed by March 14th, 2020.