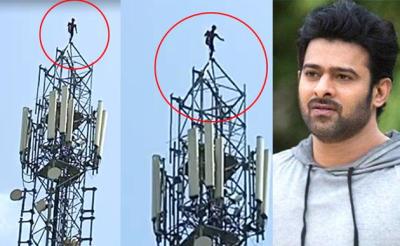 Prabhas have countless die-hard fans who love him unconditionally. The kind of films he does and his humility has only made him darling of people in all age groups. At times, Fans behave abnormally to express how much they admire the Baahubali Star. On such incident happened in Jangaon Town, Telangana.
A Fan of Prabhas climbed a cell tower and refused to come down until Prabhas comes to meet him. He even threatened to commit suicide if his wish wasn't fulfilled. Tension prevailed in the surroundings of Udumula Hospital in Jangaon Town because of this incident. Cops appeared clueless as the Fan wasn't willing to climb down until his dream comes true. What would be the reaction of Rebel Star if this news has come to his notice?
If Prabhas accepts the demand of his crazy Fan, It would set a bad precedent without any doubt. Tomorrow, Some other Fan might place a similar demand by putting his/her life at risk. The situation won't be in anyone's control if fans of other stars get inspired by this trend. People need to care about their families instead of ruining their lives out of insane admiration for Stars.