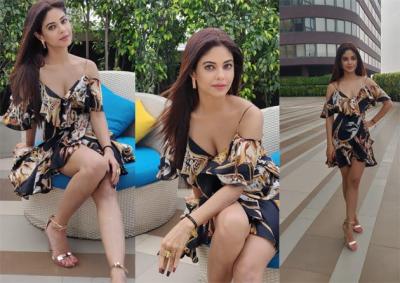 Pawan Kalyan's Bangaram released in May, 2006 and many thought Meera Chopra will become the next big actress of Telugu Cinema as Khushi actress - Bhoomika Chawla, Gudumba Actress - Meera Jasmine became popular at the time.
But Meera Chopra after Vaana, Bangaram went to Tamil and then Hindi. But she did not achieve success anywhere.
Now the actress is coming up with Section 375 in Hindi. Richa Chadda, Akshaye Khanna are playing the lead roles of lawyers and she is in the top billed supporting roles.
She is playing the rape victim in the film and it is her case against her film director, that opens the debate about rape and consent. She is playing a costume assistant and she accuses director of her film with rape, while he claims for them to be in a relationship.
Well, as the movie is releasing on 13th September, directed by Ajay Bahl and written by Manish Gupta, the actress released the above photoshoot pics. She seems to be still trying hard to prove herself as an actress and we are impressed by her passion to prove. All the best, lady!