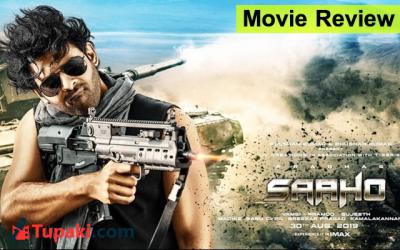 Movie Review: Saaho
Rating: 1.75/5
Cast: Prabhas, Shraddha Kapoor, Neil Nitin Mukesh, Jackie Shroff, Chunky Pandey, Mahesh Manjrekar, Mandira Bedi, Vennela Kishore, Murali Sharma, Tinu Anand, Lal, Arun Vijay and Others.
Music: Guru Randhwa - Tanishq Baagchi - Baadshah - Shankar Ehsaan Loy
Background Score: Gibran
Production Design: Sabu Cyril
Producers: Vamshi - Pramod
Story - Screenplay - Dialogues - Direction: Sujeeth
Release Date: 30th August 2019
After 'Baahubali' Franchise, Anybody in the position of Prabhas might have preferred working with yet another Top Filmmaker in the country. Rebel Star, however, surprised everyone by trusting Sujeeth so much to invest Rs 350 crore. Teaser and Trailer of 'Saaho' have some mind-blowing sequences to make people assume it's the biggest action entertainer ever made in the history of Indian Cinema. Whether 'Saaho' met the expectations?
Synopsis:
Waaji City is being ruled by Mafia Don Roy (Jackie Shroff). Key Members of this Mafia Gang gets rid of Roy and the Black Box containing key for the locker with lakhs of crores goes missing. Search begins for the Black Box to claim the throne. Ashok Chakravarthy (Prabhas), an undercover cop, too have a plan for the Black Box. Who is the real heir of Roy? Watch 'Saaho' in theaters nearby to know more!
Performances:
Prabhas has done everything possible while carrying the film on his shoulders. However, All of his efforts went in vein due to lack of good characterization. Even his look in few scenes isn't pleasing to watch. One gets the feeling Director failed to do justice to the image of Rebel Star.
Shraddha Kapoor got to play a crime branch officer in the movie. She looks beautiful and shares good chemistry with Prabhas but the romantic track is unimpressive.
Jackie Shroff didn't get much screen time. Chunky Pandey and Neil Nitin Mukesh are alright. Murali Sharma, Vennela Kishore, Arun Vijay and Mandira Bedi failed to leave a strong impact.
Pros:
Action Sequences
Background Score
Production Values
Cons:
Screenplay
Direction
Runtime
Technicalities:
Not even a single song in Saaho album is impressive. In fact, Audience get the feeling that the film should have been released sans songs. They damaged the flow of the movie at regular intervals. Background Score composed by Gibran is marvelous. He managed to offer goosebumps experience to the viewers with his terrific composition. Gibran Background Score in Action Blocks is outstanding. Cinematography is flawless. Action Choreography is on par with Hollywood. Visual Effects could have been far better. Production Designer Sabu Cyril created a new world for 'Saaho' but how well its been utilized by the Director is a million dollar question. UV Creations spent more than what's required to make 'Saaho' match with 'Baahubali' franchise in terms of scale. Sujeeth failed to impress either as Script Writer or Director. Focus is more on the scale of the movie rather than on story and screenplay. Lacklustre & Confusing Narration has only made 'Saaho' fall short of expectations.
Analysis:
The initial plan was to make 'Saaho' with a budget of Rs 150 crore. As the range of Prabhas increased with 'Baahubali: The Conclusion', The budget has been escalated to Rs 350 crore to match up to his new image. A new city was created in a foreign location instead of shooting in a Film Studio, 6 Music Directors were hired instead of One, Well-Known Actors has been roped for even 1-2 scenes and Rs 80 crore were spent for a single action block. All these factors contributed to the mammoth budget of the flick. No matter how much money is being spent, 'Saaho' failed to impress with either story or screenplay.
Audience are used to regular twists n turns, especially presenting the protagonist in a completely different manner in the Interval or Climax. Sujeeth made use of limited resources to keep the screenplay of 'Run Raja Run' entertaining. He, however, messed it completely while having resources in abundance in the case of 'Saaho'. Lack of conviction and experience is evident here. Instead of thrilling the audience, He ended up testing their patience with confusing screenplay.
Introduction Sequence of Prabhas itself makes people realize what they could expect from this action thriller. Sujeeth didn't even succeed in offering a good intro for Rebel Star after 'Baahubali'. Audience wonder what's happening in the first hour. Interval Twist isn't something nobody could guess. In the first half, Neither thrilling action episodes nor breathtaking visual effects can been seen. Nothing much happens for a period of half-an-hour in the Second Half. Romantic Track of the Lead Pair is boring. Composition & Picturization of Songs look unimpressive. 
Action Episode designed in Abu Dhabi is the best element in 'Saaho'. Forget about whether it's really required for the story or not, but grandeur with which it's been shot takes your breath away. Major Twist shown in the Climax is good but it doesn't take away all the frustration of the viewers. Crisp Editing could have improved the movie watching experience to some extent. Whoever watches 'Saaho' wonders why the hell did they spend Rs 350 crore?
Bottom Line: Well Short Of Expectations!