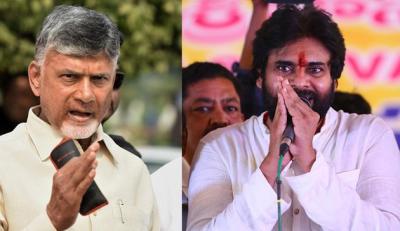 After remaining silent for a long time, Jana Sena chief Pawan Kalyan has spoken up on the Amaravati issue. He says he wants the capital to be in Amaravati only. He said he would soon tour the whole area  for three days and said he would fight for keeping the capital in Amaravati only.
Pawan has of late has kept away from politics and did not speak up on any issue. He kept himself busy with his brother Chiru's birthday celebrations and with promoting Syera. Then why did he suddenly join the Capital debate?
Sources say Pawan has become suddenly active at Chandrababu's behest. It is only because of Chandrababu Naidu that Pawan has entered the fray and began speaking about it. It is well known that Chandrababu does not want the capital to be shifted. He also does not want the decentralisation. If this happens, the TDP men who invested heavily will suffer huge losses. Hence the TDP and Chandrababu Naidu want Pawan Kalyan too to join the issue and ensure that the land values remain the same. If the hype is kept up, the TDP men who now own huge chunks of land will be able to sell them off before some decentralisation happens. Pawan is thus being used to keep up the hype.