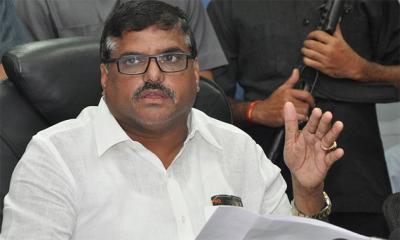 It was minister Botsa Satyanarayana who stirred the hornet's nest by raking up the issue of AP Capital. His statement that the state Government was mulling the shifting of the capital from Amaravati as it is highly flood prone. This led to a spate of comments and counter comments. The TDP reacted strongly to this and said that any attempt to change the capital would be strongly resisted. The pro-TDP media then began blowing up this issue.
Now, Botsa has again responded on the issue. He said the people were giving their own spin to what he said. He said they were trying to twist his statements. He said Chandrababu Naidu had behaved in an autocratic manner and threw the opinions of the Sivaramakrishnan to the dustbin. He said Chandrababu Naidu had constituted a committee on his own and former minister Narayana headed it. Narayana had toured all parts of the world on Government expense and has decided lot of things. In fact, he was the unofficial boss of the CRDA and forced the CRDA to do lot of things against its decisions. What is Narayana's expertise in this matter, Botsa asked.
Interestingly, Narayana is now remaining silent and is keeping a low profile. He has not made a statement after the electoral defeat. He is not seen in the party meetings too. Botsa making a comment on Narayana at this juncture assumes significance. Is he trying to corner Narayna on the choice of capital?