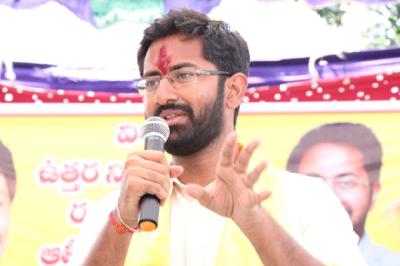 Amid the buzz in the TDP that only Jr NTR can infuse life back , here comes a counter statement. And, interestingly, the statement is coming from the extended NTR family. Balayya Babu's second son-in-law Sri Bharat has said no individual is above the party. This is seen as a direct attack on NTR, who is being increasingly seen as the one who could revitalise the party. Talking to mediapersons, Sai Bharat, who contested and lost the recent Lok Sabha elections, said that  NTR has to approach the party and that the party will not approach him. He said the party is above the individual and not otherwise.
This comment has not become the hot topic of debate within the TDP and the leaders are debating the meaning of this statement. Those in the know say that there is a tussle going on between the NTR family and the Chandrababu family. The party appears to be divided on this. Their differences are now spilling over on to the social media sphere.
Some say Sri Bharat has made this statement at the wrong time. He should not have made this statement at a time when the TDP is already passing through a crisis and this will only add to the confusion, say those in the know.  He should have waited for some time, critics say.