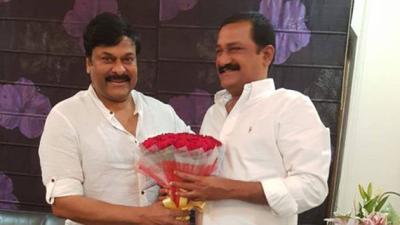 Is Mega Star Chiru trying to make a re-entry into poliics? Is he trying to join the BJP? Is this why former minister and TDP MLA Ganta Srinivas met him recently? This is the hottest topic of discussion in the North Andhra.
Chiru has of late been saying that there is pressure on him from a national party to rejoin politics. He made these remarks during an interview to promote his latest film Syera. He said he is now focused only on films and nothing else.
Yet, Ganta Srinivas Rao's meeting with him has brought to the fore the talk of his rejoining politics. Everyone knows Ganta's closeness to Chiru's family. He was Praja Rajyam MLA and was a minister in Kiran Kumar Reddy's cabinet when Chiru was a Union minister.  Post AP division, Ganta joined the TDP and became a minister again. After 2019 elections, he has been staying away from the TDP affairs and is said to be in close touch with the BJP. Ganta on his part, has never contradicted these rumours.  It is being said that Ganta is all set to join the BJP and that he is waiting for the opportune time. It is in this backdrop that Ganta's meeting with Chiru is being seen as  significant development. Many feel Ganta came to Chiru as BJP's emissary. As they say there can be no smoke without some fire somewhere.