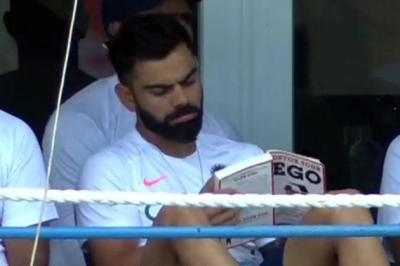 In Telugu literature, Yendamoori Verendhranadh, found out that it is better to write self-help books than stories and novels for longer and successful career.
He changed the romance and family stories dominated market of Telugu novels with Tulasi Dalam and then took his books to filmmakers in late 80's.
Most of them became successful like Kashmora, Challenge, Abhilasha, Akhari Poratam and many more. Now, he is writing self-help books more and more.
Such kind of self-help books are available in plenty around the world and some talk about controlling EGO after achieving success.
Virat Kohli is seen reading one during the first Test Match of WI vs India and the netizens started saying that after World Cup Semi Final exit, it is important for the captain of Indian Cricket Team to understand his mistakes.
First one is to get rid of his EGO and appreciate the young talent than sticking with people who try to make friends with him or play once in a New Moon.
Internet trolled him and some said they can help him find more books to control his EGO and make right decisions all the time.