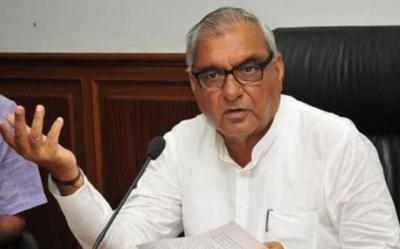 Haryana's strongest politicians are the most troublesome. Devilal, Bhajanlal and Bansilal have split the Congress and formed their own parties to become Chief Ministers. Is another strong and popular politician is going to do the same?
In what could be seen as a big shocker to the beleaguered Congress Party, Haryana's tallest Congress leader - Bhupinder Hooda - has virtually raised a banner of revolt. He gave an ultimatum to the Congress saying that he would quit if he is not announced as the CM candidate in poll-bound Haryana. He said if the Congress does not declare him as the leader, he would form a party. The Congress cannot afford to lose him and cannot afford to keep him either. And Hooda is no small fry. He is four time MP, four time MLA and two time CM. He wants the Congress to remove present PCC chief Ashok Tanwar and make him the PCC chief.
Will Congress afford to lose Hooda? Will it hedge its bets on Ashok Tanwar? Will the central leadership surrender to Hooda? Will he be made the party chief in Haryana? Hooda  held a meeting on Sunday to give an ultimatum to the Congress. What will now happen now? Well! We will wait for the drama to unfold on Haryana's silver screen.