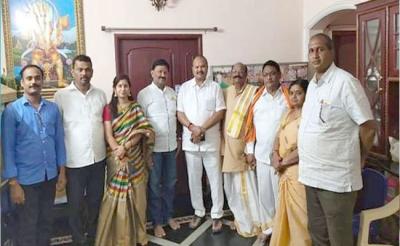 Speculations have begun that Yamini Sadineni has been preparing ground for joining BJP. A photograph of the TDP Leader with BJP AP Chief Kanna Lakshminarayana went viral on Social Media.
Yamini Sadineni was denied MLA Ticket by the TDP Leadership in 2019 Elections. Attempts made by her to mount pressure on the party failed miserably after the leakage of audio clip in which she was caught red handed provoking her followers to stage dharna.
Some of the comments of Yamini Sadineni in the past couple of years created a sensation. She became famous instantly with the loose talk targeting Pawan Kalyan. Post the elections, Yamini wasn't as active as she used to be on social media. Will she condemn the party change reports?