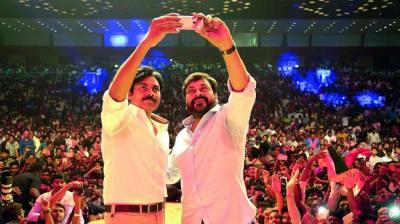 Movie Buffs always expect films in certain crazy combinations. A Mega Multi-starrer in the combination of Chiranjeevi and Pawan Kalyan is something Telugu People crave for. Sometime ago, T Subbarami Reddy had even declared he will be producing the flick in this deadly combination. Thereafter, There was no update what-so-ever on this project.
Nothing wrong about the intention of T Subbarami Reddy to bring a film in the combination of Chiru and Pawan. Whether it would materialize or not matters the most.
Since 2014-15, Chiranjeevi and Pawan Kalyan had exchanged their paths. While Megastar quit politics to make re-entry into film industry, Powerstar quit films for his political aspirations.
Jana Sena Chief has ruled out the possibility of returning to films even after the humiliating defeat in 2019 Elections. He wishes to establish himself as a serious politics by staying away from Film Industry. Which indicates, Hardly there is any possibility for the Mega Multi-starrer!