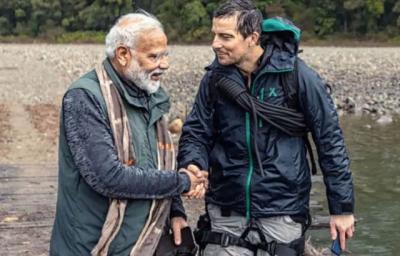 Narendra Modi did things that no other Indian Prime Minister has done during his adventurous trip with Bear Grylls for Discovery channel's show 'Man Vs Wild'. He did manage to coup with the rain and cold in the Jim Corbett National Park, Uttarakhand. 'I was the CM for 13 years. I didn't aspire to be PM..it's a choice made by people. So, I am serving them in such position since 5 years. My whole focus is only on development. I consider this trip as a vacation for the first time after 18 years,' told PM.
Modi claims to have a problem of never experiencing fears such as 'nervousness'. 'I see positivity in everything. Because of that, I am never disappointed,' he said.
PM's Message To Younger Generation - 'Don't think of our life in pieces. Think of our life as a whole with ups and downs. There is no need to worry when you are down because the way up starts from there'.
Namo told fulfilling the dreams of people gives him immense happiness. 'In whichever position I might be, It doesn't go to my head,' he responded to the question 'Did You Ever Pinch Yourself On Being India's PM?'.
When Bear Grylls cautioned him about close to 250 tigers exist in the park, Modi replied: 'God takes care of everything. The problem begins when we think that we are in a conflict with the nature'.