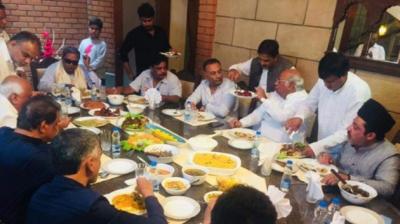 Politiians know the art of making themselves fools. The latest example is that of Karnataka Congress leader and former chief minister Siddaramaiah. Siddhu's constituency of Badami is flood affected. But, Siddu did not tour the flood-hit areas of his constituency. He took to Twitter saying that he could not move out of his house due to the cataract surgery performed on his eye. He said the doctors have advised him not to go out. He said his son will monitor the relief and rehabilitation activities in Badami.
Interestingly a day later, Siddu attended the the Eid Mubarak function in the house of a Muslim MLA from his party. Photos of Siddhu partaking food and moving round jovially were tweeted by himself. The BJP took offence and criticised his insensitive attitude. "Twitter preacher @siddaramaiah has time to attend Biryani party at Congress MLC's house.  But He doesn't have time to visit flood effected Badami constituency. If eating Biryani is over make some effort to visit your constituency & listen to plead of people who voted u," commented the BJP.
Karnataka floods have claimed 42 lives. As many as 12 persons are reportd missing. As many as 2700 villages in 17 districts have been hit by the floods. The government rescue teams have rescued over 6 lakh people from the flood affected areas.