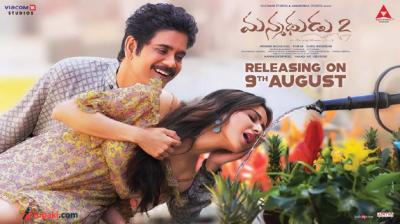 Movie Review: Manmadhudu 2
Cast: Akkineni Nagarjuna, Rakul Preet Singh, Lakshmi, Rao Ramesh, Vennela Kishore, Jhansi and Others.
Music: Chaitan Bharadwaj
Cinematography: M Sukumar
Dialogues: Kittu Vissapragada - Rahul Ravindran
Screenplay: Rahul Ravindran - Satyanand
Producers: Nagarjuna - Kiran
Director: Rahul Ravindran
Release Date: 9th of August 2019
'Manmadhudu' is cult film in the career of Nagarjuna. Akkineni Sr acquired the rights of a Foreign-Language Flick to make 'Manmadhudu 2'. He choose Rahul Ravindran to direct the flick upon watching 'Chi La Sow'. Entertaining Promos has build the buzz & the romantic entertainer released Today amidst good expectations. Has 'Manmadhudu 2' reached the hype?
Synopsis:
Shyam (Akkineni Nagarjuna) is averse long-term relationships but his Mother and Sisters make desperate attempts to ensure he gets married. That is when Shyam hires Waitress Avantika (Rakul Preet Singh) to act like his Girlfriend. Unexpected developments happen after the entry of Avantika into the Family set-up. How Shyam tackles the issues and keep his family member happy forms rest of the tale.
Performances:
Watching Nagarjuna in the role of Aged Bachelor gives a mixed feeling. In few scenes, You would wonder how he was able to maintain such good physique at that age. There were times you get the feeling that he isn't growing any younger. He did impress with his screen presence, romance and energy levels. Still, Movie Buffs won't be satisfied completely because he didn't mesmerize with his charm this time.
Compared to her previous films, Rakul looks so different in 'Manmadhudu 2'. She, however, couldn't leave a mark of her own as the role wasn't etched well.
Senior Actress Lakshmi makes few scenes click with her vast experience. Vennela Kishore and Rao Ramesh tickle the funny bone. Jhansi, Devadarshini and Nishanthi acted as per the requirement of the characters.
Pros:
Vennela Kishore-Rao Ramesh Comedy
Cinematography
Production Values
Cons:
Story
Direction
Second Half
Technicalities:
'RX 100' fame Chaitan Bharadwaj disappoints. Except 'Hey Menina', None of the Songs in the album were impressive. Background Score is decent. Cinematography by Sukumar is an asset. He presented Portugal beautifully throughout the movie. Production Values are grand. The whole movie looks so rich. Script prepared by Rahul Ravindran and Satyanand isn't impressive at all. Not only Originality went missing but also Rahul Ravindran failed to make viewers connect with the Male Lead. Mixing Adult Content with Family Emotions hasn't yielded the desired result.
Analysis:
Except for the Title and Genre, There is no similarity what-so-ever between Manmadhudu and Manmadhudu 2. The Flick helmed by Rahul Ravindran isn't even a sequel to the 2002 Superhit. Because of the similarity in the titles, Movie Buffs expect Manmadhudu 2 to have entertainment quotient, music and Nag's charm on par with the Vijay Bhaskar-directorial. Much to the disappointment, 'Manmadhudu 2' fails in these departments and ends up as a boring flick.
Nagarjuna acquired the rights of a French Flick to make 'Manmadhudu 2'. The efforts gone into make changes according to the sensibilities of the Telugu Audience weren't good enough. Nativity Factor in this Portugal-backdrop Flick went missing completely. The biggest drawback is the failure of the Director in making the movie lovers connect with story & male lead's character. Though Nag tried his best to get into the playboy role, It looked artificial because of his age factor and looks. Blending Dialogues with adult dose and Family Emotions hasn't really worked here. There is nothing much to talk about 'Manmadhudu 2' except for the Adult Dialogues, Comedy done by Vennela Kishore & Rao Ramesh.
Upon watching 'Manmadhudu 2', You may wonder what made Nagarjuna acquire the rights of the French Flick. Plenty of films has been made in Telugu with similar storylines so far. In the First Half-an-Hour, Hero Introduction, Vennela Kishore-mark Comedy and Adult Jokes keeps the proceedings entertaining. Pace drops after the entry of Heroine. Agreement between the Hero-Heroine and Marriage Drama looks artificial. Lack of freshness in the story tests the patience of viewers in the first half itself. Interval Bang doesn't create any impact.
Second Half of 'Manmadhudu 2' is even worse. You get disconnected with the Story and Characters so much that scenes appear too boring. Of course, Comedy Punches of Vennela Kishore and Rao Ramesh give a bit of relief. Brahmanandam makes a special appearance. This sequence is like continuation for the escalator scene in 'Manmadhudu'. The film ends on a satisfactory note at last. Team Manmadhudu 2 would certainly regret attempting this project.
Bottom Line: Nowhere Close To Manmadhudu!
Rating: 2/5