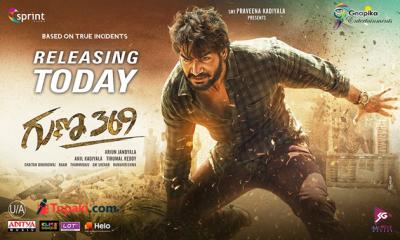 Movie Review: Guna 369
Cast: Karthikeya, Anagha, Shivaji Raja, Aditya Menon, Rangasthalam Mahesh, Manjula, Naresh, Hema and Others.
Music: Chetan Bharadwaj
Cinematography: Ram Reddy
Editing: Tammiraju
Producer: Tirumal Reddy - Anil Kadiyala
Story - Screenplay - Dialogues: Direction: Arjun Jandhyala
Release Date: 2nd August 2019
Karthikeya established himself as a promising Actor with 'RX 100'. He, however, failed to achieve success with 'Hippi'. And now, This Youngster pinned all his hopes on 'Guna 369' which is directed by Boyapati's Protege Arjun Jandyala. Trailer gave an impression that 'Guna 369' is a Love-cum-Revenge Drama. Let's see if the content is good enough to hit the bull's eye..!
Synopsis:
Guna (Karthikeya), an employee of a Granite Factory, falls in love with Geetha (Anagha) who works in a cellphone shop. Mediation done by Guna between his Friend and Gaddalagutta Radha (Aditya Menon) backfires. Guna ends up going to the jail because of the unexpected developments. What he does after walking out of the prison? What happened to his love life? Watch Guna 369 to find answers!
Performances:
Karthikeya played a role which offers immense scope for performance. He appears like a Boy-Next-Door in the First Half and explodes like a dynamite in the Second Half. Karthikeya did perform the role of a Lover seeking revenge quite well but he need to focus on his diction.
Anagha made her presence felt with homely looks and expressive face. She has done justice to her role with nice performance.
Rangasthalam Mahesh made good use of the significant role he played. Impact  could have been even better had if an Actor with a solid physique has done it. Aditya Menon brings his experience into play. Naresh and Hema as Hero's Parents are alright. Shivaji Raja does a fine job.
Pros:
Karthikeya
Major Twist in Second Half
Climax
Cons:
Songs
First Half
Sluggish Narration
Technicalities:
None of the Songs composed by Chetan Bharadwaj have it in them to become chartbuster. Even the picturization of songs is just ordinary. Background Score is fine. Cinematography is impressive. Production Values are decent. Editing could have been crisp in the First Half. Dialogues penned by Arjun Jandyala worked in parts. Lack of freshness in the storyline is the biggest drawback. Director Arjun Jandyala failed to present the story weaved around the crime theme convincingly. That is why 'Guna 369' end up as an ordinary film.
Analysis:
Inclusion of mass elements in a Love Story after an unexpected twist is a format that's been followed since decades. It's like walking on a double-edged sword. If the Director loses grip on the screenplay, The flick neither appeals to Youth nor Masses. That's what happened in the case of 'Guna 369' as well.
Love Story in the first half is tad too routine. Attempt made to keep it as entertaining as possible hasn't worked at all. Sequences of Hero falling in love with a Lady working in cellphone shop and trying to woo her lacked the required spark. Viewers get impatient during these portions and wait for the actual story to begin. Had if the love track was effective, Revenge Drama could have created a solid impact. Too much focus on Formulaic Template rather than presenting the subject differently hasn't gone well.
Audience travel with Protagonist and feel his pain only when a correct meter was maintained in a revenge drama. However, Taking too much time for establishing characters and inclusion of unnecessary sub-plots led to deviation from the actual target. The story doesn't move forward until both Guna and Radha fall in the trap.
Actual Story of 'Guna 369' begins in Second Half. Good Drama and Intensity were created after revealing the major twist in the last half-an-hour. This flick might have appealed to a lot more people had if the same tempo was maintained in the First Half as well. 'Guna 369' has close resemblance to that of Karthi-starrer 'Naa Peru Shiva'. Audience get reminded of 'Gulabi' and 'Kumari 21F' as well while watching this movie.
Climax is the biggest strength of 'Guna 369'. This is where Director presented the message he wanted to convey effectively. An attempt was made to say what's the right punishment for sexual harassment. This is the only phase where Viewers connect with the film emotionally.
Bottom Line: Revenge Drama Gone Wrong!
Rating: 2.5/5