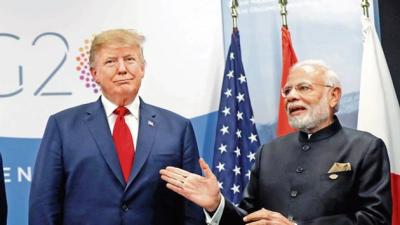 India raised serious objection over Donald Trump's controversial claim that PM Narendra Modi asked him to mediate between India & Pakistan on the Kashmir dispute when they met during the G20 Summit. The US President even offered to mediate between the two nations to find a solution. He made these comments during the meeting with Pakistan PM Imran Khan on Monday.
Whereas, India remained firm on it's stand that there is no scope for third party mediation in the Kashmir issue. A protest was lodged by India with the US State Department over the statement issued by Trump.
External Affairs Minister Jaishankar made it clear India hasn't placed any request for Trump's mediation on the Kashmir conflict.
Rajya Sabha has been adjourned till 12 noon due to the uproar over Trump's mediation claim on Kashmir dispute. Vice President M Venkaiah Naidu appealed MPs not to make the national issue into a political issue. He wondered if Opposition Members trust US President more than Indian PM.