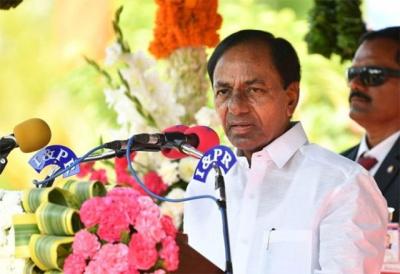 Everyone knows Telangana chief minister KCR's fetish for Vaastu. He is such a stickler for Vastu norms that he did not visit his chambers in the secretariat just because the Vaastu was not auspicious. He has also ordered the demolition of the secretariat so that a new complex could be built elsewhere in the city of Hyderabad. Everything in his Yerravelli farmhouse is built as per Vaastu. Even when he had gone to Amaravati, he made some vaastu related suggestions to the then Chief Minister Chandrababu Naidu. One never knows whether Chandrababu implemented them or not.
The latest of his Vaastu episodes is about his native village of Chintamadaka. On Monday, KCR went to his native village and promised several things to the village. He then made the interesting remark that the vaastu of Chintamadaka was very good. He meant that everything in the village was in place and this was the reason why the village was making progress.
Interestingly, he has also showered praises on Harish Rao at the public meeting organised on the occasion.