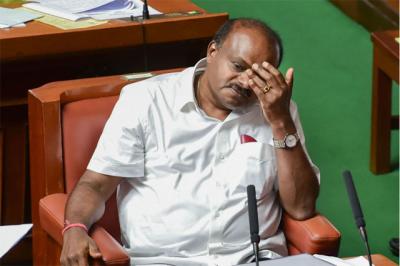 Ahead of the Trust Vote, Reports have surfaced that Karnataka CM HD Kumaraswamy got admitted to a hospital to delay the voting in the Assembly. However, Chief Minister's Office denied Kumaraswamy getting into hospital to delay the floor test on Monday.
Kumaraswamy made it clear he doesn't want to cling onto power but only wants a meaningful debate on the trust vote. He appealed the Rebel MLAs to come back for saving the coalition government.
12 Rebel MLAs who tendered their resignation denied getting influenced by either money or power. They claimed to have been protesting against the present government only for their self-respect.
BJP Chief BS Yeddyurappa, on the other hand, exuded confidence that this will be the last day of Congress-JD (S) Government in Karnataka.
Karnataka Governor ordered Speaker to conduct Floor Test by 5 PM on July 22nd. Congress-JD (S) Government can't survive if the Rebel MLAs backed by BJP doesn't change their stand.