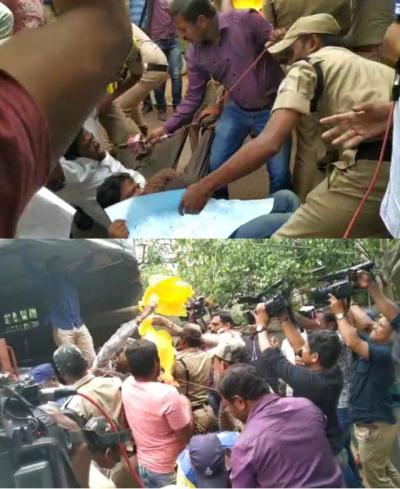 Osmania University Students intensified the protests against Bigg Boss Management and Akkineni Nagarjuna to disallow the 3rd season of Bigg Boss after the Casting Couch allegations were made by Journalist Swetha Reddy and Character Artiste Gayatri Gupta.
Apart from filing a complaint with the Human Rights Commission, OU Students surrounded the house of Akkineni Nagarjuna on Saturday. The protest was led by OU JAC Leader Kandula Madhu demanding the cancellation of Bigg Boss 3. Cops rushed to the residence of Nagarjuna and took the protesters into custody.
In the complaint filed with HRC, JAC Leaders accused Bigg Boss Management of sexually harassing aspiring Contestants in the name of screening tests. They mentioned about the Agreements on bond papers, Signatures on blank papers and Recording visuals secretly while seeking orders to impose a ban on Bigg Boss show and appropriate action against Management.
Season 1 & Season 2 of Bigg Boss went on in a very smooth manner. Whereas, Season 3 kept making headlines for all the wrong reasons even before the launch. Journalist Swetha Reddy and Actress Gayatri Gupta lodged police complaints accusing the Bigg Boss Management of approaching them with indecent proposals and resorting to body shaming. May be, Bigg Boss Management need to change the manner in which they communicate to the Aspiring Contestants. Doubts have been raised now on Bigg Boss 3 which is slated to begin from Tomorrow. What if the HRC favours the Protestors?