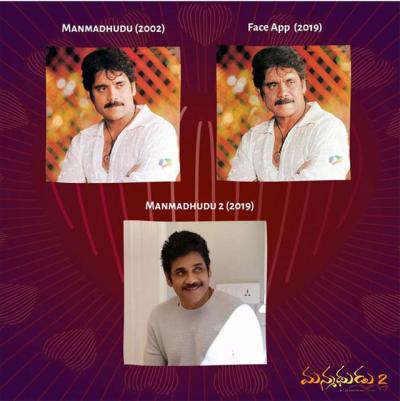 It is known that the promotions will also play a crucial role at least for the opening the collections of a film which is why most of the filmmakers have been trying to come up with some interesting strategies in terms of promotions.

Nowadays, because of the craze for social media, the filmmakers have also been using the same platform to increase the buzz around their films. Recently, Puri Jagannath has done a Tik Tok video to grab the attention of the audience. On the other hand, Tollywood king Nagarjuna also used another interesting app for promotions of his upcoming movie in 'Manmadhudu 2'. They took a picture of Nagarjuna from 'Manmadhudu' movie and have applied FaceApp over it. The artificial intelligence has generated Nagarjuna's picture with a wrinkly and pale look. They have now attached the current picture of Nagarjuna who still looking as young as dynamic as he was in 'Manmadhudu' film.

This particular picture is now going viral on the Internet and the makers are using it to promote the movie. Directed by Rahul Ravindran, Rakul Preet is playing the female lead in this movie which is slated to hit the screens very soon.