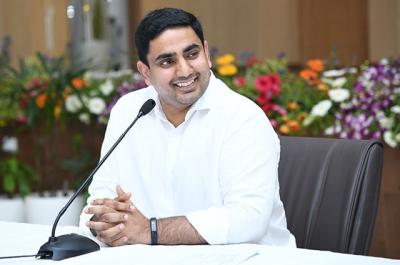 After remaining in the Opposition for two consecutive terms, Chandrababu Naidu took up padayatra to gain the faith of people. He managed to escape defeat with the support of Pawan Kalyan and BJP in 2014. By 2019, Neither Pawan nor BJP were in a position to support Telugu Desam anymore and even the wave was in favour of Jagan. As a result, TDP faced the biggest defeat since it's inception.
TDP Leadership decided to take the responsibility of boosting the morale of Party Activists. When Party Leaders and Workers are expecting either Balakrishna or Jr NTR to step in for making the party regain the lost glory, Nara Lokesh came forward to build the confidence among partymen with statewide Padayatra. It's not going to be a marathon walk for sure but gets stretched as long as possible with frequent breaks depending on the convenience of Chinna Babu.
Nara Lokesh's Tweet Attack on YCP hasn't fetched any mileage for TDP.  Ruling Party Leaders has already established that somebody has been Tweeting on behalf of Lokesh. To make matters worse, Those Leaders leaving the party kept blaming Lokesh for the dire situation. Nandamuri Fans have been wishing to see Jr NTR take over the reins of the party and Balayya turn into full-time politician. So, There is pressure on Lokesh to do something for leaving a mark of his own. Padayatra has been preferred as a last resort. Undoubtedly, This is an exercise meant to build personal image of Nara Lokesh and establish him as a dependable Leader.