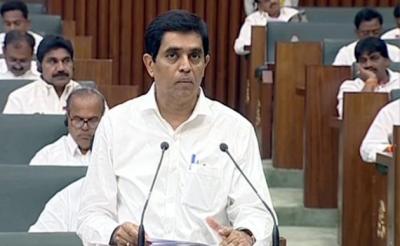 Finance Minister Buggana Rajendranath Reddy made it clear there is no confusion what-so-ever in the first budget presented by the YCP Government.
During the debate on budget, Buggana said: 'Comparing to Vote-on-Account Budget of the previous government, Taxes are far less in the budget presented by YCP Government. It's unfair on part of Chandrababu Naidu to criticize the present government by offering only 5 percent of interest-free loans when he was CM. High priority will be offered to interest-fee loans in the next budget'.
Reddy declared allocations have been done for 80 percent of the Manifesto Promises in the first budget of YCP Government. 'We allotted Rs 500 crore for AP Capital. Rs 1,700 crore were spent for Capital in the past 5 years. More than half of that fund was given by Centre. TDP Govt allotted just Rs 277 crore. There weren't even proper facilities in the structures built by TDP in the capital. Rain Water leaks in the Secretariat reflects the situation,' he said.
The Minister proudly claimed Rs 6,556 crore were allotted for Amma Vodi Scheme. He informed, 'Rs 2,000 crore were allotted for Yuvajana Sports Service as against Rs 200 crore by Previous Government. While TDP Govt allotted Rs 96 crore in 5 years for Fee Reimbursement, Our Government allotted Rs 500 crore in the first budget itself'.