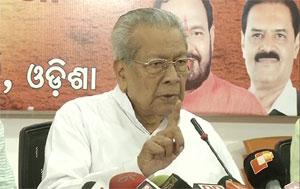 President of India on Tuesday appointed Biswa Bhusan Harichandan as the new Governor of Andhra Pradesh.
Centre continued ESL Narasimhan as joint governor for AP and Telangana in the past 5 years. Finally, A decision was taken to appoint a new governor for Andhra Pradesh post the change of government. What could be the agenda behind the latest move of the Centre?
Biswa Bhusan Harichandan Profile:
Born on August 3rd, 1934.
Educational Qualification: B.A (Hons.) LLB
An Advocate by Profession
Hails From Bhubaneswar, Odisha.
Joined Bharatiya Jana Sangha in 1971. He served as it's National Executive Member and State General Secretary until the formation of Janata Party in 1977. He was arrested during the Emergency in 1975. Later, He joined BJP and served as it's Odisha State President from 1980 to 1988. He joined Janata Party in 1988 and served as its Vice President for Odisha. Came back to BJP in 1996.
Biswa Bhusan Harichandan was a 5-time MLA and even served as Revenue Minister. His appointment was taking into account the vast experience of the Senior BJP Leader.