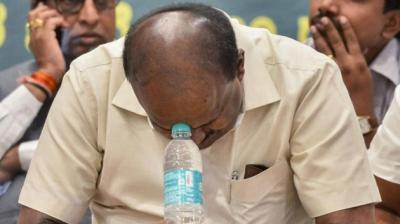 Will Janata Dal Secular led by former PM Deve Gowda do the unthinkable? Known for his quick silver moves and unpredictable political manoeuvring, he and his son can turn the tables at the drop of the hat. Now that their government is in peril and with more and more Congress MLAs resigning, his government may have to resign. But, exactly at this moment, Deve Gowda and Kumara Swamy are all set to do the unthinkable. They want to come out of the alliance and join hands with the BJP.
The BJP, which has 105 MLAs and with more and more Congress and JDS MLAs resigning, the asking number will come down to 105. The Congress-JDU alliance will have just 104 MLAs. This number could come down further down as more MLAs could resign. If the JDU plan works out, it will walk out  of the alliance and join hands with the BJP. This way, it will still be in the Government and will have deputy CM position.  It is likely that instead of Kumaraswamy, it could be Deve Gowda's other son HD Revanna who could be the deputy CM.
The JDU will have the best of both the worlds. It will be in power and will enjoy deputy CM post. The power will remain with the party. BJP or Congress, JDU will enjoy the real power. Great plan isn't it?