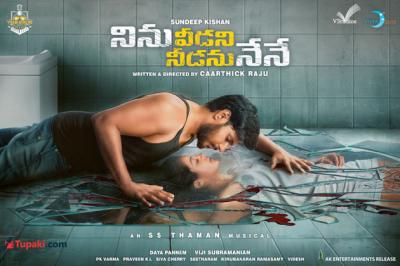 Movie Review: Ninu Veedani Needanu Nene
Cast: Sundeep Kishan, Anya Singh, Vennela Kishore, Posani Krishna Murali, Murli Sharma, Poornima Bhagyaraj, Pragathi and Others.
Music: SS Thaman
Cinematography: PK Sharma
Dialogues: KL Vijay Kumar
Producers: Sundeep Kishan & Supriya Kancherla
Story, Screenplay & Director: Caarthick Raju
Release Date: 12th of July 2019
Success Rate of Horror Films has fallen drastically in the recent past due to lack of novelty. Now, Sundeep Kishan who struggling to deliver a decent success post 'Venkatadri Express' launched himself as a Producer with 'Ninu Veedani Needanu Nene'. Unique Concept presented in the Trailer generated good buzz. Even the kind of pre-release promotions planned by the Makers has spread the positive vibe. Can Sundeep Kishan score success in the horror thriller genre?
Synopsis:
Rishi (Sundeep Kishan) and Diya (Anya Singh) are newly married couple. Their lives take an unexpected turn post a car accident. After returning to their home on that night, The Couple gets shocked to see completely different persons (Arjun [Vennela Kishore], Madhavi) when they try to look at themselves in the mirror. Immediately, They approach Doctor (Murli Sharma) who have expertise on Super-Natural Powers. Shocked with the mysterious development, The Doctor takes the help of ACP (Posani) to know who is Arjun. How the mystery has been chased? Watch 'Ninu Veedani Needanu Nene' in theatres near you to know more!
Performances:
Finally, Sundeep Kishan picked up a right subject through which he could prove himself as an Actor. He did perform well in the role that's no way close to any of the characters done by him so far.
Anya Singh doesn't have the looks to make the youth go crazy but she is bold enough to say yes to lip-lock. Performance-wise, No other Actress could have done better than her.
Vennela Kishore is more like a Second Hero of the film. He left a mark of his own with perfect timing. The Actress who did the role of Vennela Kishore's Wife hasn't got much scope to perform.
Murli Sharma is alright. Posani need to be careful as his performances are getting too routine. Poornima Bhagyaraj has done well.
Pros:
Concept
Twists n Turns
Music
Cons:
Forced Comedy
Editing
Technicalities:
Background Score provided by SS Thaman is an asset to 'Ninu Veedani Needanu Nene'. He elevated the scenes with his superb compositions but too much loudness at times could have been avoided. Two out of three Songs were nice but their placement wasn't right. Camera Work by PK Varma is praise worthy, especially the lighting effects in crucial scenes. Editing could have been more crisp. Dialogues are nothing special. Production Values have been good.
Caarthick Raju established himself as a Good Technician with his directorial debut. He missed a golden opportunity to make 'Ninu Veedani Needanu Nene' one of the best movies in Horror-Thriller Genre by getting deviated from the core point. This Talented Filmmaker ends up impressing only partially because of trying to show comedy, sentiment, thrill and horror in one film.
Analysis:
Success Rate for out & out Horror Films in Indian Cinema is almost zero. That is why Indian Filmmakers found a success formula, Horror-Comedy Genre. This trend continued for several years due to impressive success rate. In the recent years, A lot of films in the Horror-Comedy Genre were rejected by movie buffs due to monotony. Posters & Promos of 'Ninu Veedani Needanu Nene' gave an impressive that it's having a concept which wasn't attempted so far. That is why there is curiosity among the public about this project.
What if you appear like someone else when you stand before a mirror? This unique theme is the most interesting aspect of this Sundeep Kishan-starrer. However, The Screenplay isn't as impressive as the Storyline. The manner in which the twist was showcased in the First Half is good but lack of gripping scenes till the pre-interval is a drawback. Though the suspense element involving Sundeep Kishan and Vennela Kishore was dealt well, Flashback and Routine Plots ruin the overall impact. Forced Comedy hasn't improved the movie-watching experience in any way.
The result could have been different had if the Director didn't dilute the seriousness of the subject with Vennela Kishore. Impact could have been more if a Young Hero has done the role of the Star Comedian. Even the role of Posani as Investigating Officer looks silly. Revenge Episode planned after the mystery was chased doesn't offer much kick.
Inspite of the flaws, Caarthick Raju deserves praises for delivering a quality output inspite of the budget constraints. Overall, 'Ninu Veedani Needanu Nene' have more thrills than scary moments. Those who like this genre might have a good feeling watching it!
Bottom Line: What's In The Mirror?
Rating: 2.5/5