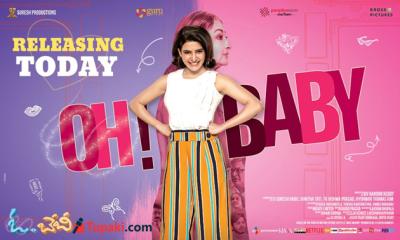 Movie Review: Oh! Baby
Cast: Samantha, Naga Shourya, Lakshmi, Rajendra Prasad, Rao Ramesh, Teja Sajja and Others.
Music Director: Mickey J Meyer
Cinematography: Richard Prasad
Producers: D Suresh Babu
Screenplay & Direction: Nandini Reddy
Release Date: 5th of July 2019
Samantha began a new journey with 'U-Turn' which was her first Female Centric Flick. She now came up with a remake of Korean film 'Miss Granny', 'Oh! Baby'. This Flick helmed by Nandini Reddy of 'Ala Modalaindi' fame released Today. Has it lived up to the expectations?
Synopsis:
Baby (Lakshmi), a 70-Year-Old Woman who faced many hardships since childhood, leaves home due to the family feud. Miraculously, She becomes a 24-Year-Old all of a sudden. That is when Baby decides to make the most out of the golden opportunity by living life the way she always wished to live. Rest of the story is about the journey of Baby and what she went through during this phase of her life.
Performances:
Baby is undoubtedly one of the memorable roles in the career of Samantha and she is lucky enough to get such kind of subject. Sam excelled in the character of a 70-Year-Old turning into 24-Year-Old. Be it her expressions or body language or dialogue delivery, She is flawless in each and every aspect. Hats off to Samantha for breathing life into the character and making the viewers connect with emotions Baby went through.
Senior Actress Lakshmi showed her acting prowess in every sequence. Rajendra Prasad goes overboard at times but he is impressive. Rao Ramesh is at his best once again. Naga Shourya did complete justice to the character. Teja who was once a successful Child Artiste has shown good ease. Urvashi and Pragathi are alright.
Pros:
Concept & Casting
Samantha's Performance
Climax
Cons:
Lethargic Pace In Second Half
Technicalities:
Songs composed by Mickey J Meyer aren't up to the standards set by him. Except 'Changubala', None of the songs are impressive. Background Score is okay. Camera Work by Richard Prasad is so pleasing. Production Values are too good. Dialogues are well written by Lakshmi Bhupal. Nandini Reddy showed her command on humour once again. She did succeed in presenting the movie in a refreshing manner for most part but faltered when it comes to emotions. Overall, Nandini doesn't disappoint with 'Oh! Baby'.
Analysis:
'Oh! Baby' is a movie showcasing the importance of human relations with Socio-Fantasy Touch. It's the story of a Elderly Woman who does a lot to raise her Son after the death of her Husband and how she learnt about the true essence of life after becoming a 24-Year-Old. Though it's a remake of Korean Flick, Not even once does the viewers get such an impression why because the artistes and situations are very familiar.
Having ample entertainment is the biggest positive for 'Oh! Baby'. Samantha came out with flying colors doing the role of a 70-Year-Old in the body of a 24-Year-Old. Good casting for all the key characters has done wonders. Performances of Samantha & other Crucial Characters overshadowed few shortcomings.
Audience turn restless waiting for the arrival of Samantha while watching the emotional episode in the beginning. Once after her arrival, Samantha entertains thoroughly with her screen presence, body language and dialect. Each and every sequence featuring Samantha till Interval is very entertaining.
Story takes a serious turn in the Second Half as the motive behind the decision to turn 24-Year-Old gets revealed. Lack of a single effective scene showing Baby realise that her life as 70-Year-Old is far better is a drawback. Even the Musical Episode wasn't so impressive. Songs in the Singing Competition are nothing special to make it appeal. Lethargic Pace in the Second Half is a letdown. Combination scenes of Samantha-Rajendra Prasad and Samantha-Rao Ramesh are so engaging. Especially, The emotional sequence of Rao Ramesh in the climax is heart-touching. Overall, 'Oh! Baby' is a film you could watch this weekend for its novel concept and few good moments.
Bottom Line: 'Okay' Baby!
Rating: 2.75/5