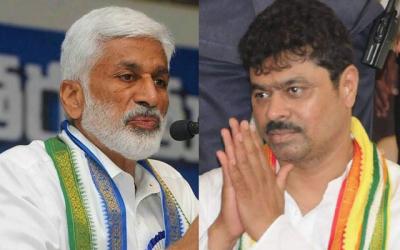 The swearing-in of the newly elected MPs is currently on and the scenes of MPs from across the country taking oath are happening before our eyes. Several Rajya Sabha members too attended the swearing-in and cheered the newly elected MPs. Even as this was happening, there was another strange spectacle unfolding.
In the gallery meant for Rajya Sabha members, Vijay Sai Reddy was in the second row while Chandrababu Naidu's Man Friday CM Ramesh sat in the front row. As they met, they shook hands and greeted one another in a very friendly manner. Suddenly, Vijaysai Reddy stood up and went over to CM Ramesh. He sat besides CM Ramesh and both hit upon a very friendly-looking conversation. As they were engrossed in conversation, Congress MP KVP Ramachandra Rao too came towards them. But seeing both very busy in the conversation, KVP sat at a distance. This clearly showed that they were discussing something very important.
The closeness  of both Vijaysai and CM Ramesh was seen to be believed. Had Chandrababu seen this bonhomie, he would have definitely got a heartache. Interestingly, when some mediapersons sought to know what transpired in their talks, Vijaysai was very cryptic and said he was listening to CM Ramesh explain the achievements of the TDP during the past five years. This added to the mystery. Now, this conversation between two arch-rivals is the talk of the Delhi town.