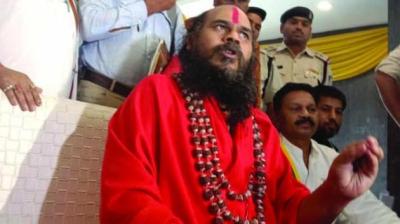 He predicted that senior Congressman Digvijay Singh will win elections from Bhopal. So confident he was that he said he would take Samadhi (ending one's life) if Digvijay Singh lost. But, when the votes were counted, Digvijay lost and lost very badly. Sadhvi Pragya Singh Thakur, Digvijay's rival, won by a huge margin. Since then, the man who predicted Digvijay's victory has gone underground. This is the story of Swami Bairagyananda aka Mirchi ( Chilli)  Baba. This big mouth Babaji has suddenly gone missing after Digvijay lost the elections. Since then, there was a demand that he keep his promise of taking Samadhi.
So, Chilli Baba enacted a huge drama on Sunday saying that he would come to Bhopal to take Samadhi exactly at 2.01 PM. He gave huge publicity to the event and ensured that the police were there to foil his 'attempt.' Accordingly, as soon as he arrived at the Bhopal airport, he was arrested. Thus, Babaji's Samadhi attempt was 'foiled.'
Now, the Babaji says that he will take Samadhi on June 20. "If I am stopped from taking a Samadhi, I will go on hunger strike," he says. So, the drama will continue. But, Babaji, we know how hunger strikes are organised. Is your hunger strike going to be any different?