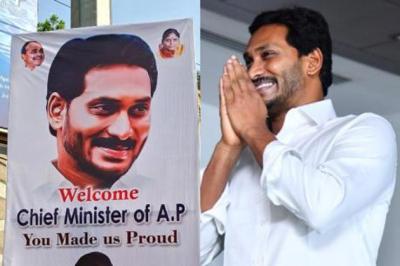 The popularity of YS Jaganmohan Reddy went to a next level with the historic victory of YSR Congress in 2019 Elections and the manner in which New CM kept leaving a mark of his own in every aspect, be it appointments, governance or implementation of poll promises.
Right now, Jagan is the most charismatic Regional Party Leader in the country. He had even overshadowed the Telangana CM K Chandrasekhar Rao with his unique style of functioning.
Few years ago, Telanganites used to oppose the idols or banners of Andhra Leaders. In fact, YCP Chief himself had to witness stone-pelting when he attempted Odarpu Yatra in Telangana several years ago. But now, The situation has changed drastically because of the healthy relations between the CMs of Telugu States. Flexis of YS Jaganmohan Reddy surfaced in Hyderabad. In these Flexis, Jagan appears along with KCR and KTR.
Until recently, Flexis of KCR used to appear in AP whenever he toured the neighbouring state. Andhrites used to wonder why don't the flexis of AP Leaders appear in Hyderabad which is the joint capital. From now, They needn't have any such complaints. Good rapport between KCR and Jagan would eventually benefit the Telugu People.