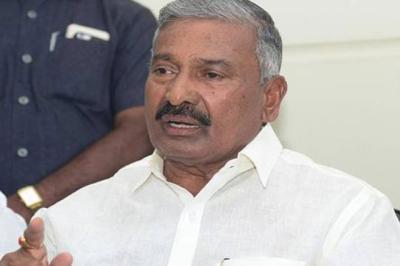 Panchayati Raj Minister Peddireddy Ramachandra Reddy was allotted the chamber used by Nara Lokesh while he served as an IT Minister. The new Minister, however, refused to move it to the chamber of Former CM's Son. Later, He was allotted Room No.203 in 3rd Block of AP Secretariat and the Senior Politician accepted it happily. What could be the reason behind rejecting Lokesh's Chamber which is spacious and equipped with all the facilities?
Apparently, Peddireddy showed the chamber of Lokesh to few Pundits and that is when he came to know about Vaastu defects. However, Jagan hasn't offered permission for any renovation works as any move would send wrong indication to the public. So, The Minister sought allotment of another chamber to him.
Peddireddy moved into the new chamber allotted to him on Thursday. Apart from Panchayati Raj, He is going to handle Rural Development, Mines & Geology Portfolios.
There was so much debate on Peddireddy's Move because it was the chamber from where Nara Lokesh performed his duty in the past. Which Minister will be receiving this vacant chamber?