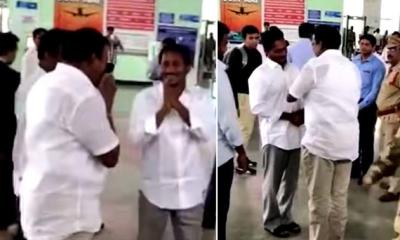 June 12th, 2019 will mark a new innings for Jana Sena Party. On this day, The lone MLA Rapaka Vara Prasad (Razole) took oath in the AP Assembly on behalf of the god assuring he would do his duty as an MLA.
Prior to the elections, Jana Sainiks used to have the gut feeling that at least Pawan Kalyan would enter the Assembly even if all the remaining MLA Candidates face defeat. To their shock, Jana Sena bagged one MLA Seat but it's not won by Powerstar. Contesting in two constituencies proved costly for the Jana Sena Chief.
Jana Sena announced Rapaka's Oath-Taking marks the first step of the party towards questioning the government on behalf of the people and addressing the issues.
Interestingly, Rapaka Vara Prasad met YS Jaganmohan Reddy in CM's chamber Today. He ruled out any political importance for the meeting saying that it's just a formal visit. Speaking to media, Rapaka made it clear: 'Pawan Kalyan floated Jana Sena to bring the change not just for the sake of power. If Jagan fulfils the aspirations of people, We will welcome it. Or else, We are ready to fight against the Government'.