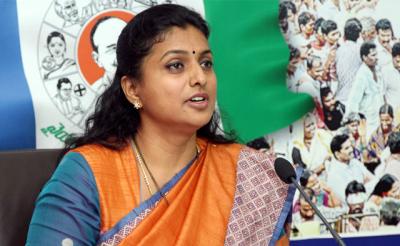 Denial of cabinet berth to RK Roja has become a hot topic everywhere why because nobody expected that to happen at least after she retained her MLA Seat. People wondered whether if the Actress will be made to wait for two-and-a-half years for becoming a Minister.
As per latest reports, CM Jaganmohan Reddy preferred Roja as the Chairperson of AP Industrial Infrastructure Corporation (APIIC). The Nagari MLA is more than happy to accept such an influential post after being denied Ministerial berth. Most importantly, It's a Cabinet Rank post. Which means, Roja will receiving all the privileges of a Minister.
The approval of APIIC is a must for setting up any new Industry in Andhra Pradesh. It's through this corporation, Permissions will be granted, facilities such as land, electricity and water supply are going to be provided for the Industries. If Roja becomes APIIC Chairperson, She would have the authority to approve or reject any proposal for setting up a new Industry.
By appointing Roja as APIIC Chairperson, YS Jagan hardly gave any scope for anybody to point fingers at him. He is definitely not someone who neglects the loyal Leaders.