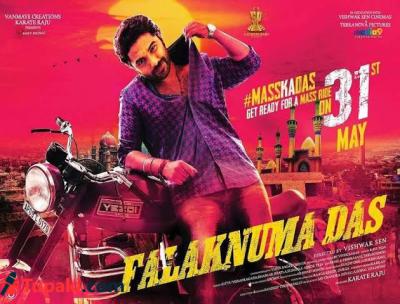 Movie Review: Falaknuma Das
Cast: Vishwak Sen, Uttej, Tarun Bhaskar, Saloni Mishra, Harshitha Gaur and Others
Music: Vivek Sagar
Cinematography: Vidyasagar Chinta
Producer: Karate Raju
Screenplay, Dialogues & Direction: Vishwak Sen
Release Date: 31st Of May 2019
Promotional Content of 'Falaknuma Das' was very impressive. Around 10 Paid Premieres have been organised and such is the craze for this movie ahead of the release. Whether the final product lived up to the expectations?
Synopsis:
Das (Vishwak Sen) is a Youth in Falaknuma who leads his life happily with a group of friends. This hot-blooded Guy develops an admiration towards local Rowdy Sheeter Shankar Anna. He too wishes to establish a gang and do settlements. After the murder of Shankar Anna, Das sets up a Mutton Shop in the name of the Rowdy Sheeter. While the business was running successfully, Das had a clash with Two Rowdy Sheeters who were behind Shankar Anna's Murder. He ends up facing the murder case because of the death of a person from opposite camp. How did Das come out of this mess forms rest of the tale..!
Performances:
Vishwa Sen of 'Ee Nagaraniki Emaindi' fame surprises everyone with performance in 'Falaknuma Das'. He breathes life into the character of a Old City Youth and performed with utmost ease. Screen Presence of this Young Actor mesmerizes to say the least.
Uttej left a mark of his own in a movie after a long time. He owns the character of Peg Pandu and makes it work with perfect Telangana dialect.
As Police Officer, Tarun Bhaskar is very impressive. Expect much more good characters from this Talented Filmmaker in future. None of the Heroines are impressive. All the Actors who played hero's friends and villain gang acted naturally.
Pros:
Viswak Sen
Performances Of Uttej & Tharun Bhaskar
Interval Bang
Cons:
Romantic Track
Second Half
Technicalities:
Background Score provided by Vivek Sagar is exceptional. Several sequences were elevated with the Background Score. Songs composed by him have been decent. Cinematography by Vidya Sagar is good. He showed the Old City in the best possible manner. Production Values are as per the requirement. Director Vishwak Sen tried to leave his own mark on the remake. Dialogues penned by him are nice. He proved his command on Old City language, dialect and atmosphere with this movie. However, Vishwak Sen failed to present the film in a nice format with the required tempo due to lack of experience. Viewers get the feeling that scenes have been forcibly included, especially in the Second Half.
Analysis:
A Film which attained cult status or classic range in a language mayn't necessarily create similar impact when it is remade. That's the problem with the subjects which are so much connected to the nativity. 'Falaknuma Das' is the remake of Malayalam cult movie 'Angamaly Diaries'. Vishwak Sen preferred Old City backdrop for the sake of Telugu Nativity. He did succeed in capturing the atmosphere of Old City like not other filmmaker. Each and every scene or dialogue in the movie is very realistic. All of these elements have been like sugar coating and they alone can't make the viewer watch the movie with utmost attention for two-and-a-half hours.
Good Taking, Catchy One-liners and Few Impactful Scenes alone can't make a movie Box Office winner. Connecting with the Story and Screenplay is utmost important. 'Falaknuma Das' disappoints in this aspect. Wafer Thin Storyline, Never Ending Gang Wars, Poor Romantic Track and Illogical Scenes make it a tedious watch. Of course, 'Falaknuma Das' offers a different feeling due to the Old City backdrop and unique taking, but it fails to impress on a whole.
Gang Wars in the beginning of the movie were entertaining. After a point, They get repetitive with Hero Batch doing nothing other than drinking and clashing throughout the movie. The twist in the Interval Bang is nice but the Second Half doesn't live up to the hype created here.
Romantic Track appears like a forced inclusion. None of the Heroines leave an impact. Unnecessary scenes come and go in the Second Half. Viewers hardly connect with the Mutton Business episode. You could give 'Falaknuma Das' a try for Good Performances, Authentic Old City humour and New-style of Taking but it certainly fell short of the expectations.
Bottom Line: 'Hot-Blooded' Das Shines BUT...!
Rating: 2/5