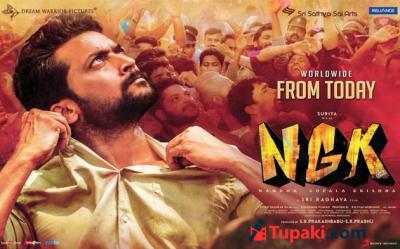 Movie Review: NGK
Cast: Suriya, Sai Pallavi, Rakul Preet Singh, Devaraj, Bala Singh, Pon Vannan and Others
Music: Yuvan Shankar Raja
Cinematography: Sivakumar Vijayan
Dialogues: Rajesh Murthy
Producers: SR Prakash Babu - SR Prabhu
Story, Screenplay & Direction: Sri Raghava
Release Date: 31st May 2019
Suriya is deprived of a solid hit post 'Singham 2' in 2013. He failed to achieve inspite of attempting commercial potboilers and concept-based flicks during this phase. He now teamed up with acclaimed filmmaker Sri Raghava for delivered a political drama, 'NGK'. Whether this deadly combination set the cash registers ringing?
Synopsis:
NGK (Nanda Gopal Krishna) prefers Organic Farming in his village inspite of being well-educated. The way he motivates people in the village doesn't go down well with few groups. When they try to trouble him repeatedly, NGK approaches local MLA for help but fails to receive any assistance. He joins as an Assistant for the MLA due to unavoidable situation and began working with a hidden agenda. What is the goal of NGK & how did he achieve it forms rest of the tale?
Performances:
Suriya shows his brilliance as an actor yet again with his sincere effort from start to finish. The way in which he emoted with his eyes in several scenes is worth praising. However, Sri Raghava failed to etch the role of Protagonist properly.
Sai Pallavi shows her speciality in few scenes but even she deserves much better role. The build-up given to Rakul Preet Singh role in the beginning wasn't justified. She, however, was presented in a very attractive manner by the Director. Rest of the Actors are Tamilians & that is one reason why Telugus couldn't connect with the movie.
Pros:
Suriya
Rakul's Beauty
Cons:
Characterizations
Screenplay
Direction
Technicalities:
None of the Songs composed by Yuvan Shankar Raja are pleasing to the ears. Tamil Nativity is evident even in the songs. Yuvan showed his expertise when it comes to the background score and elevated even ordinary scene. Sivakumar Vijayan's Camera Work is nothing special. Production Values are good. Sri Raghava used to leave a mark of his own even in his flop movies. He, however, failed to create such an impact with 'NGK' by letting down in all the three departments (Story, Screenplay, Direction). Movie Buffs who thronged theatres expecting unique narration and thrills were left disappointed.
Analysis:
During the pre-release promotions of 'NGK', Suriya lauded the effort put in by YS Jaganmohan Reddy to become the Chief Minister of AP. The Actor claimed to have seen the hardwork of the YCP Chief to reach the position where he is Today. In 'NGK', The Protagonist keeps reaching new heights in politics without any extraordinary efforts. He seems to have blindly trusted Sri Raghava who is known to be an Intelligent Director but 'NGK' proves how outdated he is. This is one of the weakest films in the career of both Suriya and Sri Raghava.
Movie Lovers expect a film in the combination of Suriya and Sri Raghava to be either path-breaking or close to reality. Whereas, They disappoints big time due to lack of either gripping narration or thrilling moments. The Protagonist in 'NGK' becomes Chief Minister just by organising a dharna and delivered a power-packed speech. Is that really believable?
Too much Tamil Nativity and lack of novelty in the scenes tests the patience of the viewers. Even the sincere efforts of Suriya to save the film hasn't worked. Neither the Story nor the Screenplay arrested the attention of the audience. Old Movies of Sri Raghava appear like classics even Today irrespective of their Box Office result. A Filmmaker who made critically acclaimed films has now gone outdated.
First Half of 'NGK' is passable to some extent with few good moments but the Second Half isn't bearable at all. The finishing speech of Suriya is the best sequence in the movie. Had if the remaining content is as good as this speech, The end result could have been lot better. Overall, 'NGK' doesn't live up to the expectations.
Bottom Line: Tests Your Patience!
Rating: 1.5/5